Financial Website Directory Ireland
Website Preview . .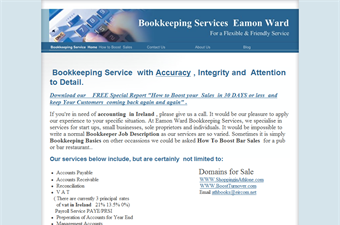 Website Pages . .
If you're in need of accounting in Ireland, please give us a call. It would be our pleasure to apply our experience to your specific situation. At Eamon Ward Bookkeeping Services, we specialise in services for start ups, small businesses, sole proprietors and individuals.
Submission Categories . .
Listing Statistics . .
152

Listing ID :

6 April 2011

Date Added :

1

Site Page Rank :

27

Traffic Out :

3572

Page Views :