Financial Website Directory Ireland
Website Preview . .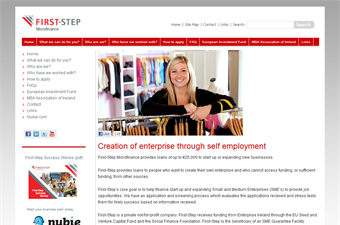 First-Step Microfinance provides loans of up to €25,000 to start up or expanding new businesses.
First-Step provides loans to people who want to create their own enterprise and who cannot access funding, or sufficient funding, from other sources.
First-Step's core goal is to help finance start up and expanding Small and Medium Enterprises (SME's) to provide job opportunities. We have an application and screening process which evaluates the applications received and stress tests them for likely success based on information received.
First-Step is a private not-for-profit company. First-Step receives funding from Enterprise Ireland through the EU Seed and Venture Capital Fund and the Social Finance Foundation. First-Step is the beneficiary of an SME Guarantee Facility created within the framework of the Competitiveness and Innovation Framework Programme (CIP) of the European Community.
Listing Statistics . .
1030

Listing ID :

3 June 2012

Date Added :

N/A

Site Page Rank :

48

Traffic Out :

3276

Page Views :