Financial Website Directory Ireland
Website Preview . .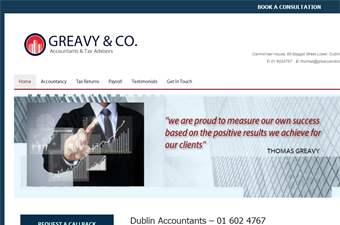 Website Pages . .
At Greavy & Co Accountants Dublin we are proud to measure our own success based on the positive results we achieve for our clients. We are a growth oriented company and seek to work with like minded, strategically focused businesses and individuals. If you are seeking to move your business forward and improve it's financial management and systems then why not give us a call on 01 602 4767.
Listing Statistics . .
9012

Listing ID :

5 November 2013

Date Added :

N/A

Site Page Rank :

3

Traffic Out :

2779

Page Views :
Reciprocal Link . .
http://www.financedirectory.ie