Financial Website Directory Ireland
Website Preview . .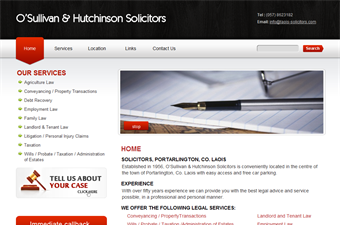 Established in 1956, O'Sullivan & Hutchinson Solicitors is located in the centre of the town of Portarlington, Co. Laois. With over fifty years experience we can provide you with the best legal advice and service possible, in a professional and personal manner.
Listing Statistics . .
2182

Listing ID :

10 January 2013

Date Added :

0

Site Page Rank :

1

Traffic Out :

1894

Page Views :