Financial Website Directory Ireland
Website Preview . .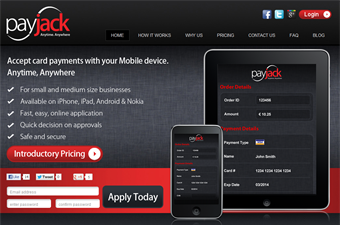 Payjack enables small businesses accept card payments on a mobile phone by turning a mobile device into a mobile virtual terminal. The solution is ideal for small businesses and sole traders who do cannot currently take credit card payments. Payjack features a fast and easy signup online application process. With a 48-hour approval turnaround time, a business can then take card payments anytime, anyplace. Payjack is available for iPhone, Android and iPad and supports credit and debit card payments.
Listing Statistics . .
1078

Listing ID :

12 June 2012

Date Added :

N/A

Site Page Rank :

4

Traffic Out :

1823

Page Views :