Financial Website Directory Ireland
Website Preview . .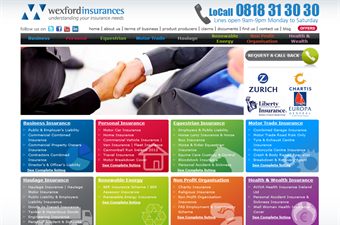 Wexford Insurances Ltd. was established in 1995. Since then they have become one of Ireland's leading Insurance brokerages serving customers nationwide. Their committed team ensure you receive a quality service. Wexford Insurances has over 15 years experience. They have made a name for themselves through providing incomparable service and excellent insurance solutions. Remarkably they are there to assist you when things go wrong, unlike many ohter brokerages. Their Claims Department is managed by Deborah Walsh who possesses over 10 years claims settlement experience. Veterans in Equine Insurances they recognise that Ireland is world famous in the Equine Industry. This makes them unique in providing a quality, professional service both on business and personal levels. Wexford Insurances work closely with their advocates to provide specialised packages in many industries: • Business / Commercial Insurance • Professional Indemnity • Motor Trade Insurance • Personal Insurance • Haulage Insurance • Renewable Energy insurance • Non Profit Organisations Insurance • Equestrian Insurance Specialists. Call NOW to talk to a pledged account handler on low call number 0818-31-30-30.
Listing Statistics . .
1397

Listing ID :

9 October 2012

Date Added :

3

Site Page Rank :

5

Traffic Out :

1672

Page Views :