Financial Website Directory Ireland
Website Preview . .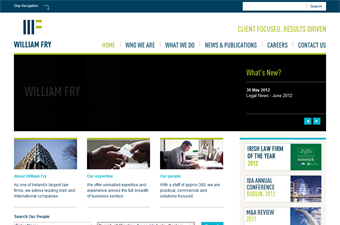 William Fry is Ireland's corporate law firm of choice. We are one of the largest firms and firmly established in the top tier for many decades. Our clients include many of the leading global and domestic companies operating in Ireland, Irish government bodies, financial institutions and entrepreneurs.
We offer unrivalled corporate and commercial expertise and experience across the full breadth of the business sector. We back that reputation with a results-focused and innovative team of more than 270 high calibre lawyers and tax professionals and 110 support staff, who have worked on the highest profile corporate and commercial transactions and legal challenges of recent years.
Listing Statistics . .
1034

Listing ID :

3 June 2012

Date Added :

5

Site Page Rank :

1

Traffic Out :

968

Page Views :